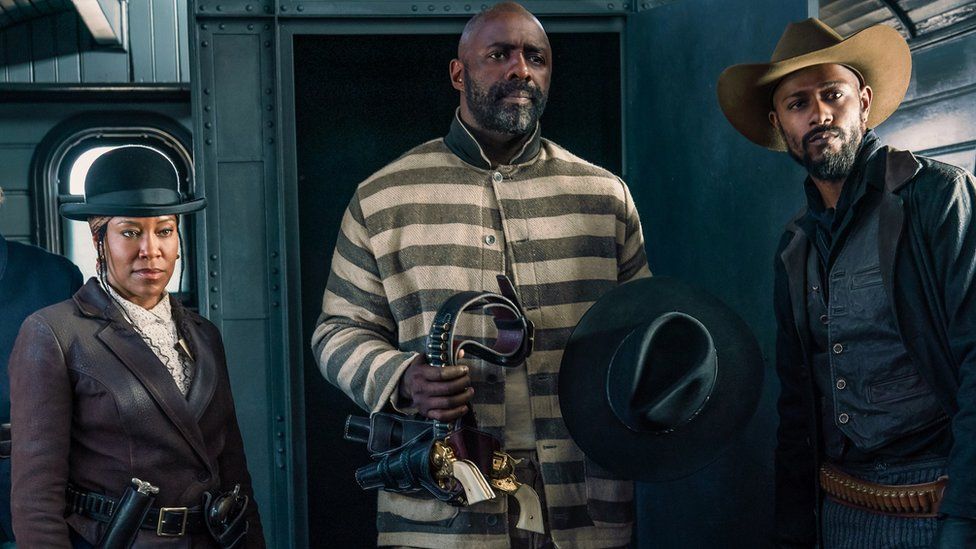 Netflix's new Western, The Harder They Fall, opens with an intriguing disclaimer: "While the events in this film are fictionalised… These. People. Existed."
Without it, viewers might assume the movie is an imaginary tale, one of several cases of Hollywood re-casting historical periods and events with more ethnic minority characters than there were in reality.
Except in this case, the opposite is true. A large number of cowboys were black, and yet traditionally the film industry has cast white men in the leading parts of Westerns, with black actors generally in deferential roles.
Director Jeymes Samuel, who fell in love with Westerns as a child growing up in west London, is keen to challenge viewers' perceptions of the genre without implying his film doesn't belong within it – a delicate balance.
"I hate the phrase black cinema, and black film," he tells BBC News. "Because, when you have a film directed by Steven Spielberg starring Audrey Hepburn and Richard Dreyfuss [1989's Always], it's not a white movie. So if there's no white cinema, there's no black cinema. Cinema is cinema.
"But if every time you put people of colour in a Western, and say, 'These people were slaves', and if every time they put women in a period piece or Western, they always make them super subservient, you have to at some point do something about it, and call attention to it.
There have, of course, been attempts to diversify the genre before. Variety's Peter Debruge noted: "Oscar Micheaux was making black Westerns a century ago, and the big screen saw notable examples via Sidney Poitier and Harry Belafonte in Buck and the Preacher and Mario Van Peebles' Posse.
"Still, the perception remains that the West was colonised by white cowboys facing off against black-hat villains (also white), while ridding the territory of Indians."
Samuel's own love of the genre came from his parents, who regularly had movies playing in the family home. "I think I was drawn to them because it seemed so real," he says.
"It seemed like they were really in that time and place without any special effects – real horses, real people. OK, it was hundreds of years ago, but it was as if somehow, some way, we really got cameras there. Westerns were just the easiest thing for me to accept… I felt super-connected to them."
The Harder They Fall follows two rival gangs – led by Nat Love (Jonathan Majors) and Rufus Buck (Idris Elba). The film opens with a flashback to Love as a child, whose parents are murdered in front of him by Buck at the dinner table.
Later in life, hell-bent on revenge, Love hears that Buck's crew is breaking him out of prison and sets out to track him down. The result is two hours of highly entertaining but extremely violent cinema; both gangs know their way around a fight.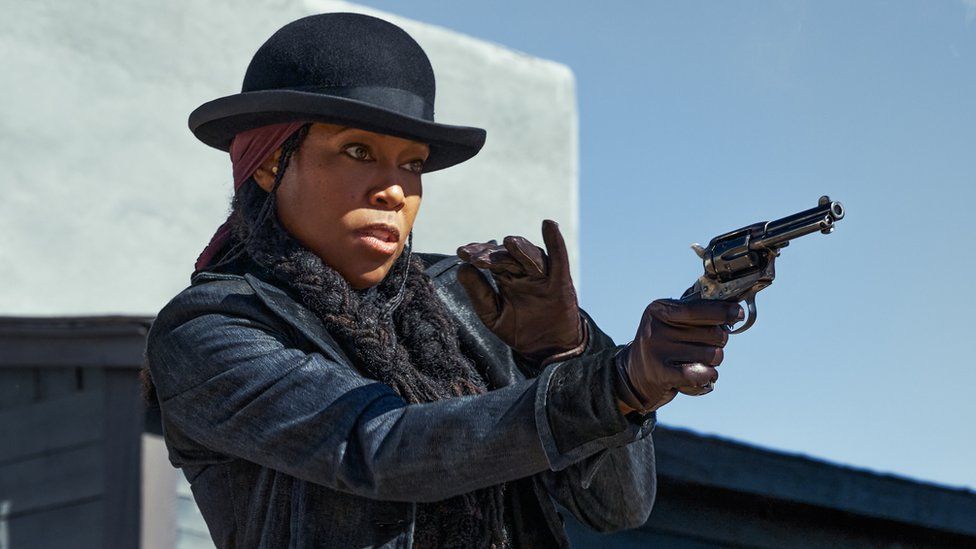 For Oscar-winning actress Regina King, who plays Buck's partner in crime Treacherous Trudy, the lack of information on the real-life figure meant she could use some artistic licence.
"When I did my Google dive on Gertrude Smith, I tried spelling it lots of different ways, and there isn't really anything that comes up. So it was a little more liberating, because I didn't have to be beholden to a certain look or idea of someone," she says.
"But when you think about Jeymes and his vision for the film in its entirety, it was never his idea to make everyone exactly what people may have read or researched… This is more of an extrapolation of people that are real, which I think makes it more stylised, more fun."
So where did Samuel draw the line with how much to stick to history and how much to fictionalise? "There is no line!" he replies. "I just obey my crazy and have fun. I kept the goodies goodies, and I kept the baddies baddies. Outside of that, I just took pure creative licence and swagged out like my mother told me do when I was a child. Like, 'Go and raise hell!'"
'Vicious and unapologetic'
Netflix has not yet won best picture at the Oscars, and this won't be the film that does. However, it has broadly gone down well with critics for its new take on the traditional Western.
"Nothing should be one way forever, and this film genre is prime for deconstruction and reinvention as old stories should cover new ground with fresh representation," suggested Deadline's Valerie Complex.
"We can be heroes, villains, and everything in between… Not only that, but this movie is vicious, unapologetic, and has moments of levity to balance out the brutality. Is it perfect? No, but it might be a mainstream revitalisation of a genre many thought was long dead."
"Samuel presents a dynamic version of the Western fit for modern-day consumption," said Empire's Whelan Barzey. "If it's more style than substance, well it really is tremendous style," added The Guardian's Peter Bradshaw.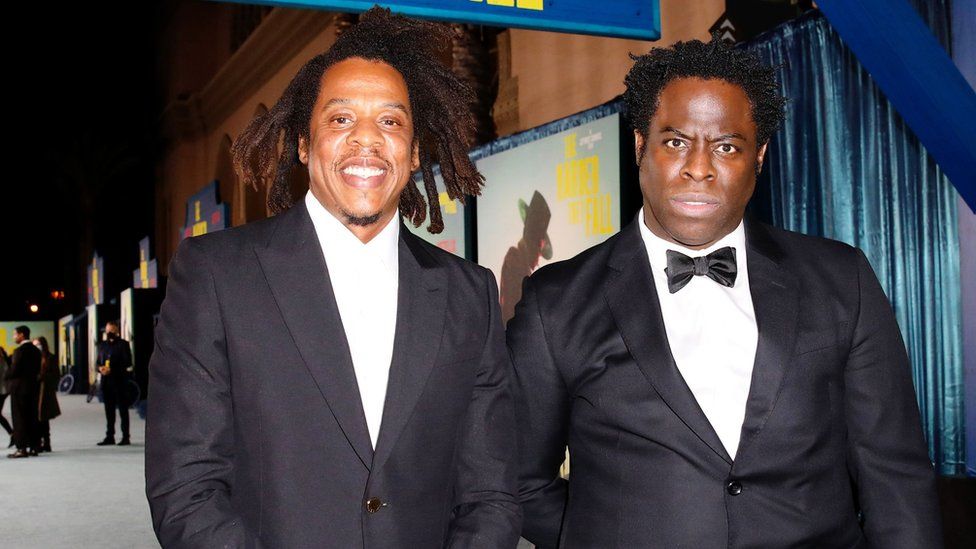 The film noticeably shuns any use of racial slurs. "We're not n-words," says Samuel. "I think what has happened too much is people think that if you put black people in any form of period piece, they have to be called the n-word a hundred times in a film, and it's an excuse.
"That wasn't ever the case with us, even in slavery days, the n-word was not used [as a] blanket [term]. I wanted to steer clear of that word and show people in all of their glory."
King says: "It's interesting that while that was Jeymes' desire, it landed on you. You noticed the omission of the word. Whereas there are other films that sometimes seem to go out of their way to make sure the word is used. And that's that creator's choice."
She pauses for a moment. "Obviously I'm talking about [Quentin] Tarantino films!" she laughs. "I can't say everything I just said and dance around that. But it's a choice, and everyone has a choice to express their art the way they want to, we should allow a person to do that. You can like it or not."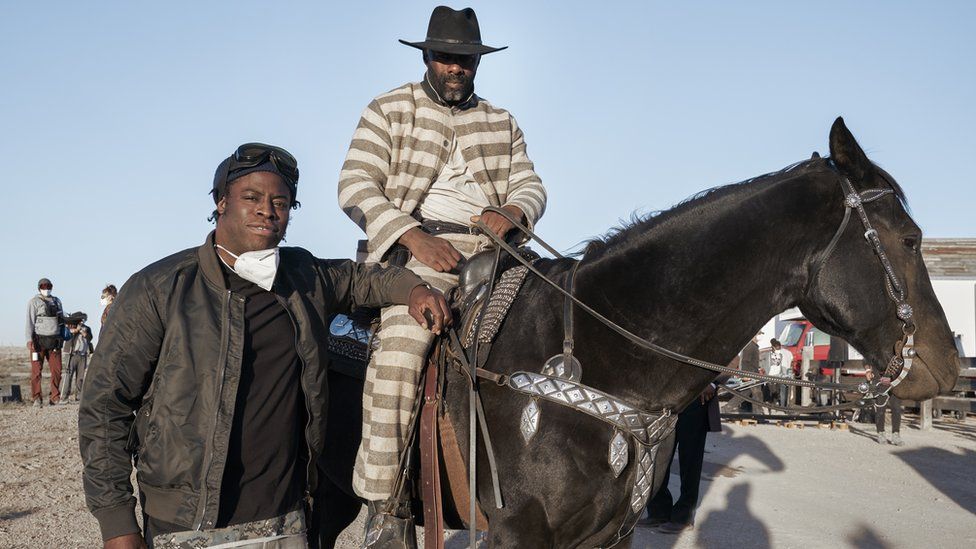 In recent years, the film and TV industry has increasingly employed casts which are less white and less male. Think the all-female reboot of Ghostbusters,Jodie Turner-Smith's portrayal of Anne Boleyn, and the racial diversity of period drama Bridgerton. 
Journalists often grapple with the issue of how big a deal to make of such factors. On the one hand, you might instinctively want to champion something which is different and forward-thinking. Furthermore, by drawing attention to it, you're signalling that you support it.
But on the other hand, if you talk about it too much, then you're arguably reinforcing the division, implying that such films and TV shows aren't the norm and shouldn't be treated as such.
"I know what you mean, [the more you do that], the more [of a] novelty it becomes, and you want it to be commonplace," Samuel says. "But the thing is, it's not commonplace."
He argues that the industry will only change by calling attention to new approaches. "My whole reason for doing The Harder They Fall is so they can make films and write characters in Westerns, and not have to give a reason for them being there if they're black, Asian, Latino, Native American," he says.
"You can correct the imagery that we've had of Native Americans in the old West, circling a wagon with a white lady and her children inside. This is just Hollywood's mythic viewfinder, we just had to broaden the scope."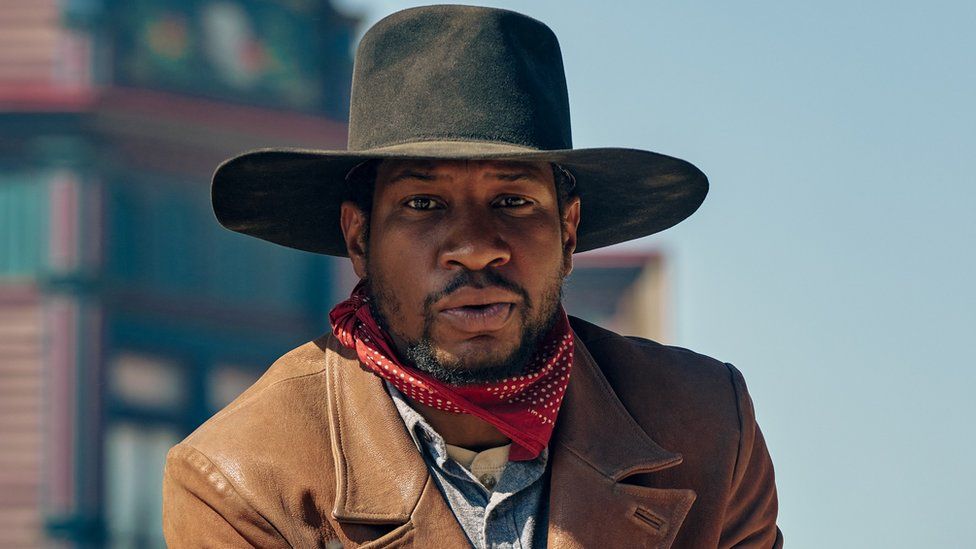 The Harder They Fall is out now in cinemas and released on Netflix on 2 November.